IceT – Keep Cool when Monitoring the Environment
IceT (Intelligent, Computerised Environmental Monitoring: Temperature) is a system for monitoring, recording and alerting about temperatures at multiple locations. Simply plug an IceT Reader into your Internet connection, and plug up to four Probes into the reader to start recording minute-by-minute readings. Access the readings, daily minimum, average and maximums, and graphs on our temperature website.
Configure alerts, sent by email or to your mobile phones, if the temperature gets too high or low. Alerts can be customised for each probe and multiple recipients.
More IceT Readers and Probes can be added as required. For larger installations add your own IceT Server to record, store and display all your data on-site.
Why Use IceT?
IceT is a flexible, convenient solution to many real-world problems including fridge and feezer checking, data center monitoring and energy saving:
Check your Fridges

Restaurants, hotels and other caterers need to check and keep records of the temperatures in their refrigerators to demonstrate that the food is being kept safely. Typically, they will keep a thermometer in each fridge, and send staff to record the temperature daily. IceT can collect more data and simultaneously reduce staff costs. Additionally, IceT can alert staff when there is a problem, before food is spoilt.

Data Centre Monitoring

Data centers have high air-conditioning requirements, but frequent changes of equipment and increased use of high-power blade servers can change heat distribution in unexpected ways. IceT's use of standard cabling allows probes to be easily relocated so that hot-spots can be identified.

Energy Saving

You might have the right temperature, but still be wasting energy. In one case, the detailed monitoring provided by IceT allowed an air-conditioned warehouse to reduce electricity bills by 40%. The detailed, continuous graphs helped identify energy-wasting conditions that were not otherwise obvious, including:

Use of a too powerful air-conditioner.
Poor air-flow.
"stupid" mistakes: leaving the window open when the air-conditioner was running.
Evaluation of the effects of insulation.
The Equipment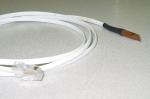 The IceT Temperature Probes are waterproof and measure temperatures from –55°C to +125°C with ±0.5°C accuracy in the –10°C to +85°C range. They can be placed up to 200 feet from the Readers.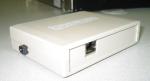 Each IceT Reader can support four probes and requires mains power and a network connection.
The IceT Server can be located anywhere on the network … or the Internet.